Planning to adopt a Bull Terrier Puppy, but unsure due to the misconception about its aggression. Worry not, this article will clear all your doubts.
The Bull Terrier is a dog breed that belongs to the terrier family. They date back to the year 1835 and originated in England. Bull Terrier is a breed derived from the Bulldog and white English Terrier breeds along with Dalmatians or Spanish Pointer dogs.
They were primarily bred as fighting dogs. They are courageous fighters but not the ones who start fights. Bull Terrier Puppies come in both standard and miniature varieties.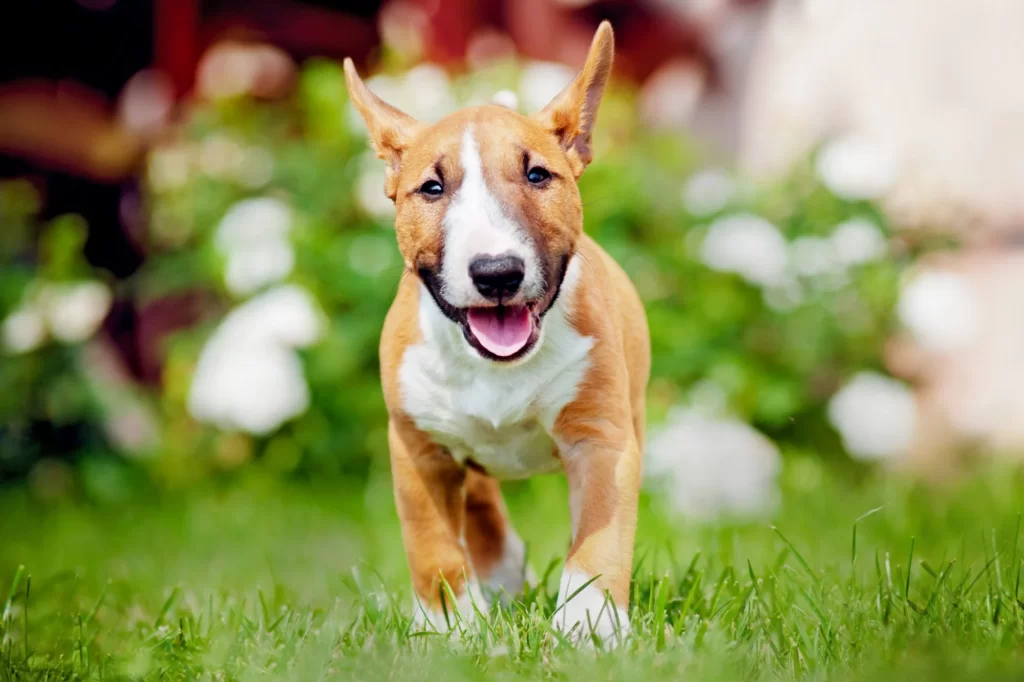 What do Bull Terrier Puppies Look Like?
A Bull Terrier Puppy has a unique face that is easily recognizable.
They have long heads which are shaped like an egg.
Their face curves gradually downwards till the tip of their nose.
Their ears are pointed and have a strong and deep lower jaw.
They are the only registered species with deep-set triangular and dark eyes.
Their tail is horizontal.
Bull Terriers can be white, red, fawn, black or tawny color or a combination of these.
Related: Quiet Ears for Dogs: The new Tik Tok Sensation
What are Some Special Characteristics of Bull Terrier Puppies?
Bull Terrier Puppies have a life span of 12-13 years.
They grow up to 21-22 inches and have an average weight of 50-70 pounds.
They are frequent shedders and have short flat hairs on their bodies.
They are active dogs and are highly intelligent.
They have muscular shoulders with a round and strong body which shows off their strength and agility.
Also Read: What is a Dog Sprinkler and How Can You Make Your Pet Enjoy Outdoors?
Are Bull Terrier Puppies Aggressive?
Bull Terrier Puppies have got a bad reputation as they seem aggressive due to their unique appearance.
However, they are a playful and gentle breed.
They are also known as the clowns of the dog world as they are quite mischievous and comical.
They are extroverts and are often excited to meet people.
But there is also a different side to their joyful personality.
They can show jealousy of other animals or even humans if their owner is showering attention on them.
They also have a dominant personality.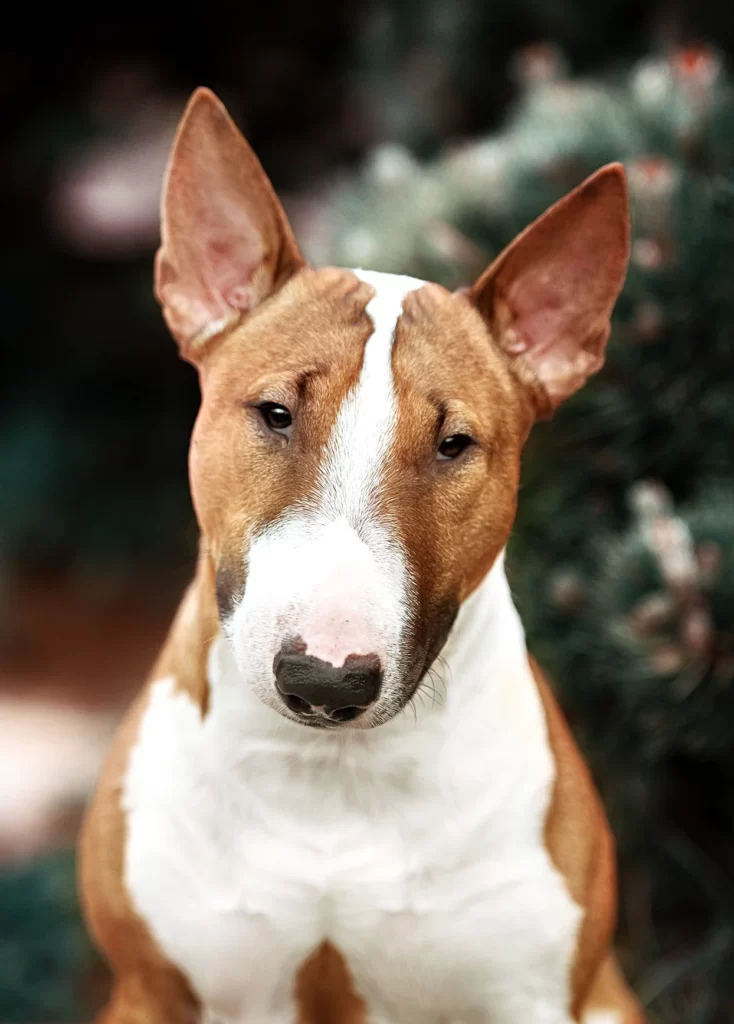 Are Bull Terrier Puppies Good Family Dogs?
Bull Terrier Puppies are playful and affectionate when it comes to their relationship with their family.
If they are socialized early with other dogs and people, they are the most lovable and loyal dog breed.
They thrive in human company and should live indoors with their parents.
They become destructive the same way a toddler will be if left alone for a long time.
They also need to be obedience trained.
However, they are not recommended for homes where there are other pets or small children as they are dominant in nature.
Novice dog owners are also advised against adopting Bull Terrier Puppies as they require a firm master.
Also Read: Crocs for Dogs Comes to the Rescue – If Want to Match Footwear with Your Dog
What Kind of Lifestyle Should Bull Terrier Puppies Lead?
Since Bull Terrier Puppies have a stocky build, they must lead an active lifestyle.
Either go on a walk with your pet or make them exercise in a closed yard daily.
Caution should be taken that they should be on a leash and not allowed to run free even if they are playful or trained.
Half an hour to an hour-long exercise coupled with playtime is a must.
Since they are a breed of both Bulldog and Terrier groups, they exhibit the characteristics of both these breeds.
They are courageous like Bulldogs but also prefer fun over work like Terriers.
Hence their training should be filled with fun and they will excel in it.
You can also encourage them by using food or toys.
What Kind of Nutrition do Bull Terrier Puppies Require?
Their diet should be controlled because they are prone to getting overweight.
Bull Terrier Puppies should be fed high-quality dog food according to their age.
Both homemade and commercially manufactured foods can be given.
High calcium diets are recommended when they are undergoing a growth spurt.
Also, clean fresh water should be made available at all times.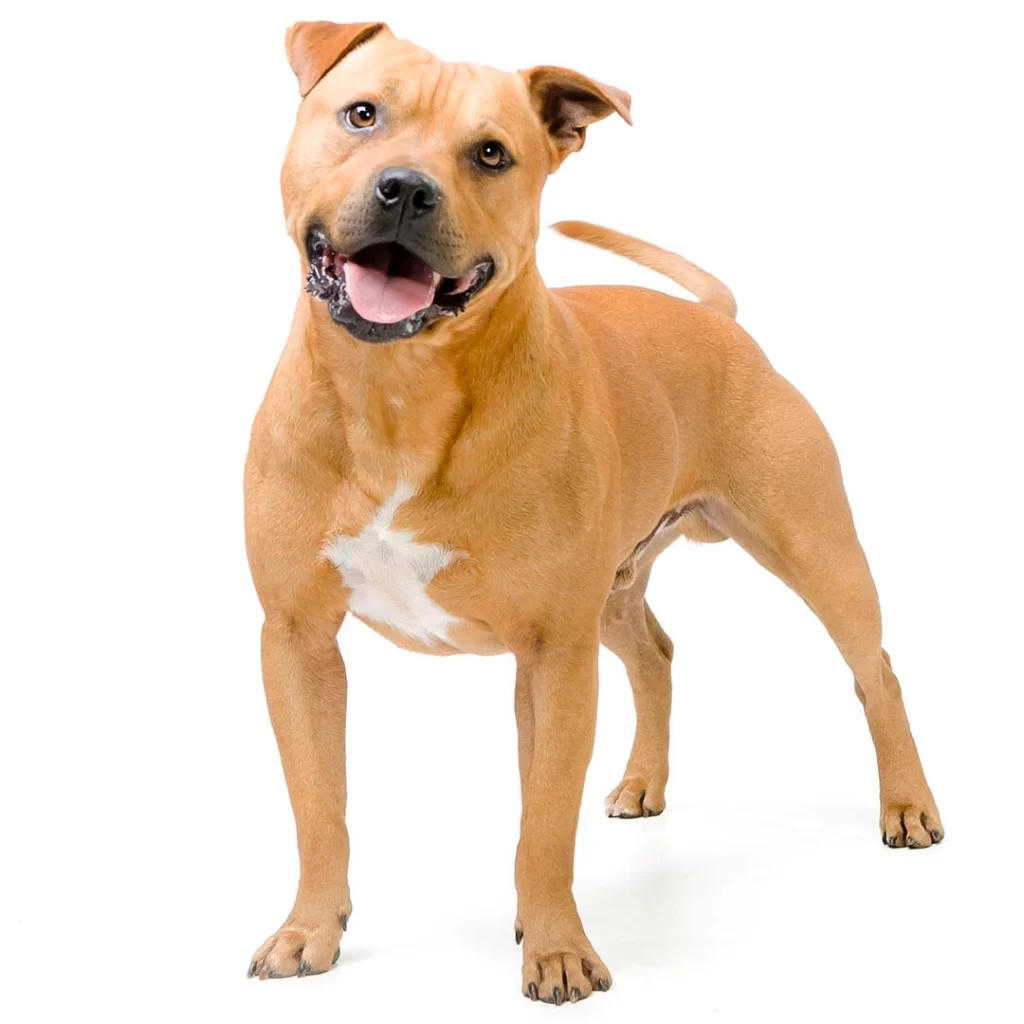 What are the Grooming Needs of Bull Terrier Puppies?
Bull Terrier Puppies are low-maintenance dogs.
Once a week brushing and wet wiping keeps them fairly clean.
However, since they shed twice a year, brushing needs to be frequent during those times.
They do not do well in a damp cold environment. Hence keeping them warm with a coat is mandatory.
Also Read: How To Care For Your Small Dog's Teeth
Do Bull Terrier Puppies Suffer from any Particular Ailments?
Bull Terrier Puppies can develop skin allergies.
They can also have hearing issues.
They may also suffer from kidney diseases, and heart and eye problems.
What Role Do Bull Terrier Puppies Play in the Society?
Bull Terrier Puppies are pretty decent at a variety of dog sports such as weight pull, carting, flyball, etc.
They also assist in bomb detection and search and rescue services.
They can also function as therapy dogs.
Bull Terrier Puppies can excel in a lot of fields if they are trained in a fun-filled and patient environment. So go ahead and take this goofy and loyal dog to your home.