Dogs, a man's best friend. Owing to the covid lockdown, a lot many people started taking an interest in raising these furry friends. Dogs became a companion in people's lonely times and provided them with the warmth and companionship they craved during those tough times.
Proof of this sentiment are the various accessories dog owners buy for their dogs. The accessories range from outfits to toys. In addition to the things, you can buy for your dog; Crocs for Dogs is the latest trend.
What is this Latest Trend: Crocs for Dogs?
Crocs, the famous and controversial comfy clogs are again making a headline. You might love them or hate them; we might never understand their popularity. They are quite comfy however people are still decisive about their looks.
Well, now you can share this comfort with your furry friends. Yes, you read that right. Adorable crocs-inspired shoes for dogs have been launched. This footwear has taken the internet by storm.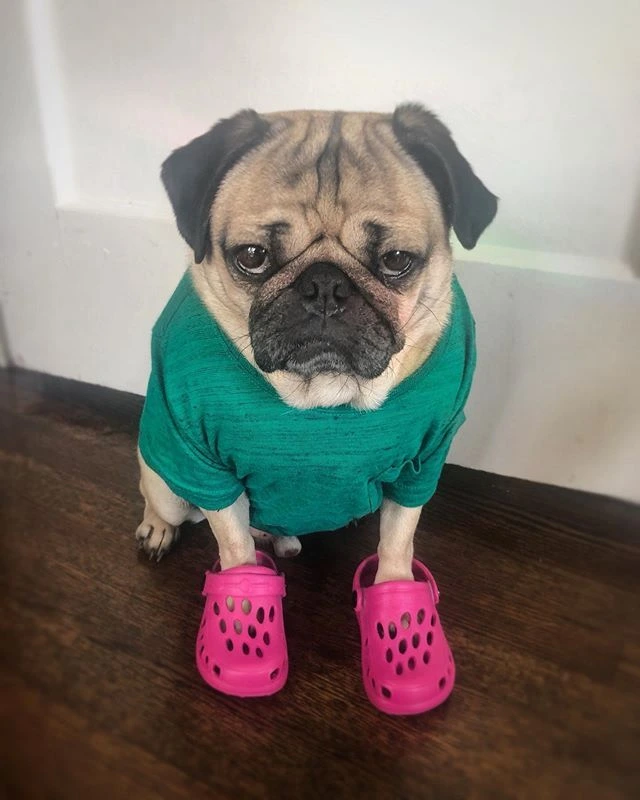 Also Read: HOW HEAVY SHOULD MY CAT BE- COMPLETE GUIDE?
Which Company Launched these adorable Crocs for Dogs?
GEHARTY, the brand has launched these mini-Crocs on Amazon. The brand is not affiliated with Crocs, the OG brand for these shoes. The company launched these products keeping the friendship between humans and their furry friends in mind. GEHARTY, the brand that seized the opportunity to launch Crocs for Dogs says that these shoes are just for fun.
Related: How To Care For Your Small Dog's Teeth – The Complete Guide To Your Dog's Dental Health
What are the Trendy Features of Crocs for Dogs?
Crocs for Dogs look exactly like their human version.
These adorable shoes come in pairs or packs of fours.
These shoes come only for the front paws however you can buy a pack of fours and use the remaining two for your pets' back paws as well.
Mini shoes flaunt a variety of colors such as Blue, Green, Pink, Yellow, and Red.
The footwear is super easy to put on your pet's paws.
As of now, only mini-size models have been launched which are suitable for only small dogs.
Only one size i.e., 2.76 by 1.15 inches has been launched.
You can also use these shoes for your cats.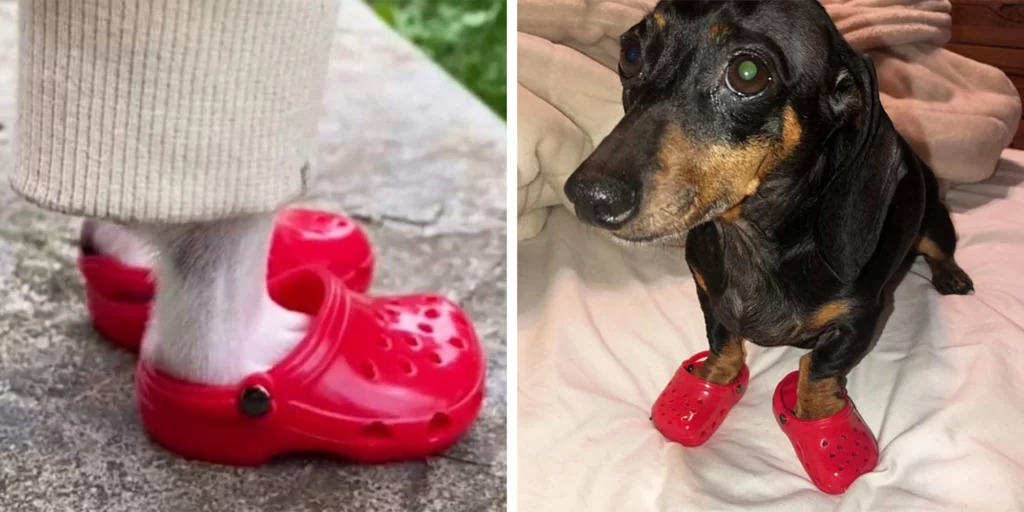 How Comfortable are These Teeny-Tiny Crocs for Dogs?
Crocs for Dogs are made from durable PVC material.
They are soft and flexible.
Do Crocs for Dogs Play a Role in Protecting Your Best Friend's Paws?
Crocs for Dogs are being touted as anti-slip.
It will protect your furry friends from falling over while flaunting these adorable shoes.
These shoes can also protect their paws from hot pavements.
Shoes can also allow them to avoid frostbite and snow melts which can be quite irritating.
Where Can You Buy These Super Adorable Crocs for Dogs?
The moment these dog shoes started trending on social media, dog owners were quick to grab a pair for their pooches.
GEHARTY Dog Crocs were available on Amazon but are currently sold out owing to their huge popularity on social media such as TikTok and Instagram.
However, Crocs for Dogs from other brands with a similar rating are available on Amazon.
A company called AU-Lilith is also in the market with similar shoes.
Au-Lilith Crocs for Dogs are available in six bright colors.
The holes in the top of the shoes are shaped like little hearts which to be frank is a game changer.
Also Read: Dog Sprinkler and How Can You Make Your Pet Enjoy Outdoors?
What are Some Alternatives to Crocs for Dogs?
In case, you are someone who is on the opposite side of the Crocs debate, you can always choose some other accessories for your adorable friends. Also, if your pet is on the larger side, then buying Crocs for Dogs is not the best idea. The reason is that these shoes have been launched in only small sizes. A velvet coat lined with silk interiors provides comfort embedded with luxury.
Dogs treat shaped like fall leaves with ingredients like whole wheat flour, oats, etc.
Hydrating shampoos that make bath time with your dog a more fun experience.
LED collar covers that enable you to always keep on an eye on your pet when taking them for a walk at night.
Now your dog can easily accompany you on vacations with a lightweight food travel bag for them. This bag can store dry food items and has a separate pouch for their toys.
A collapsible dog bowl is your go-to as it is compact and travel-friendly.
Last but not least some good old balls to play fetch with your furry friends.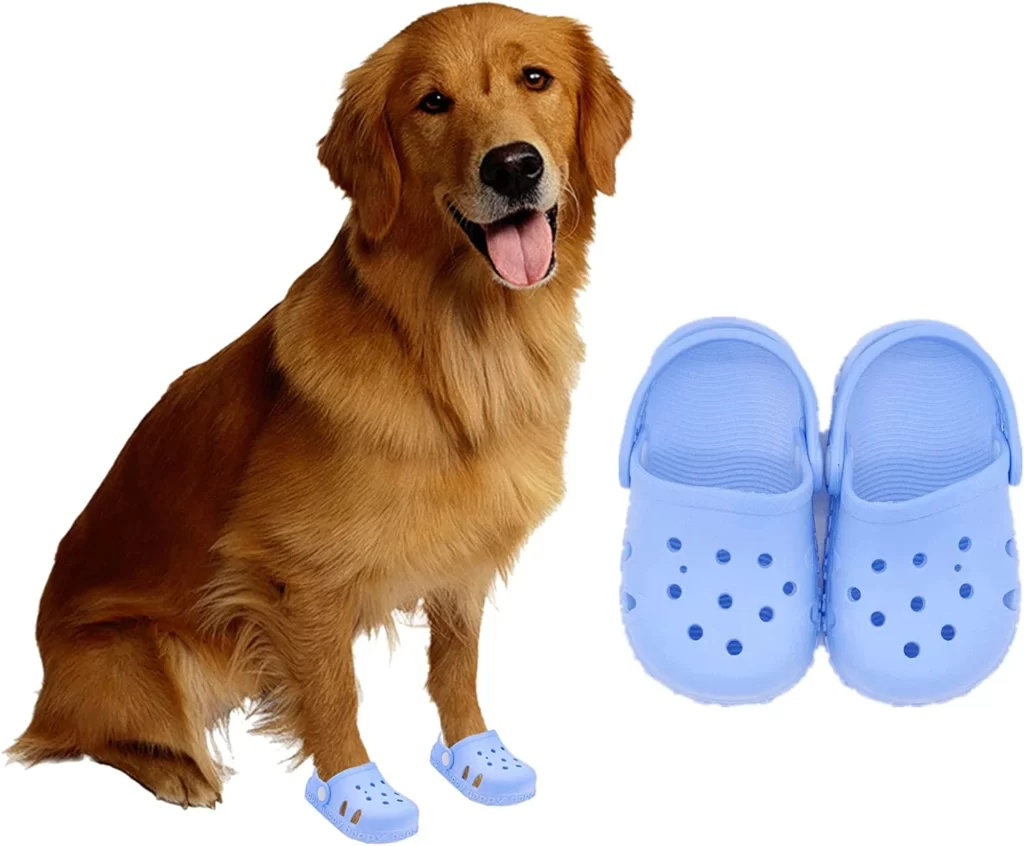 Also Read: Dog Food For Pregnant Dogs: What To Feed A Pregnant Dog
Our Verdict on Crocs for Dogs: Should You Buy It?
If you are someone who is fond of crocs on your feet and want to match your dog's paws with them, go for Crocs for Dogs.
You can buy all the colors and match them with your pet's outfits.
The pictures that you can post to Instagram will be worth the money.
However, Crocs for Dogs are not to be worn regularly and while your pet is active.
Go for alternatives like dog boots if you want to protect their paws from extreme temperatures.
Also Read: The Pomeranian Dog Is A Small Breed Of Pinscher Dogs