Are you worried about your dog's incessant barking? Do you think it might be due to anxiety, stress, or some external factors? Worry not, you have come to the right place. We have a solution to calm all your worries. Quiet Ears for Dogs are here to ease your dogs' anxiety and provide them with the ultimate comfort.
You might be wondering what is this magical product. Come, let us have a look:
What are Quiet Ears for Dogs?
Quiet Ears for Dogs or Happy hoodies as they are being casually called are ear covers that help in protecting your pet's ears. These protectors are quite the trend nowadays and can help your dogs in relieving anxiety and tension.
What are the Benefits of Using Quiet Ears for Dogs?
According to dog owners, Quiet Ears for Dogs helps their pets in the below-mentioned ways:
Stress Management:
An ear cover muffles outside noises, especially those that stress dogs.
Some fabrics also create white noise when they touch against the dog's ears.
Protection of Ears:
Excessive itching or shaking of the head causes injuries to the dog's ears.
A hood around their ears prevents them from scratching their ears.
Especially helpful during ear infections.
Warmth:
Long hoods that cover their necks provide them protection from cold weather.
Fashion Accessory:
Your pet needs to look fashionable as well.
And these accessories can make them look even cuter.
Also Read : Crocs for Dogs Comes to the Rescue – If Want to Match Footwear with Your Dog
Do Quiet Ears for Dogs Actually Work?
Well, there is no particular data to either support or oppose the idea of Quiet Ears for Dogs. But if we go by word of mouth, parents of dogs say that these ears have helped in easing the anxiety or stress of their pups.
There are a lot many stories on social media about dogs who were calmed by wearing these ear hoods.
What is the Expert Opinion on Quiet Ears for Dogs?
Experts are divided in their opinions about Quiet Ears for Dogs. According to them, dogs need their ears to stay alert and for hearing. Hence, ear covers may even stress your pets as they will not be able to hear any sounds clearly.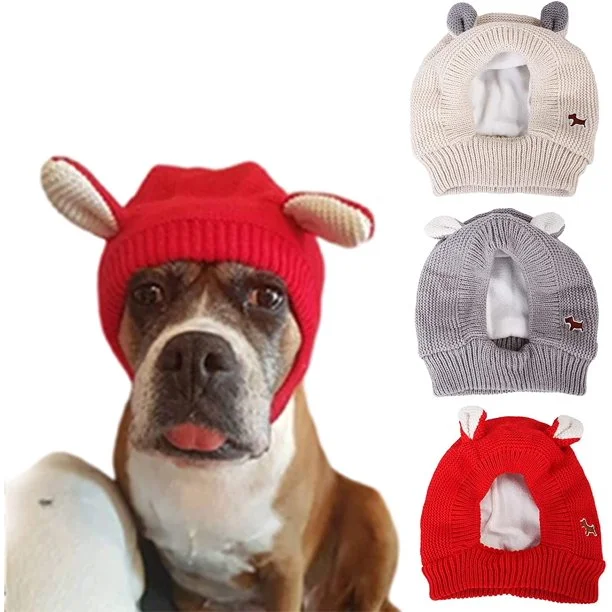 What are the Most Reviewed Quiet Ears for Dogs?
If you search on Amazon, you may find a variety of Quiet Ears for Dogs. So, we have come to your rescue with a list of the top-reviewed Quiet Ears for Dogs.
Zoo Snoods No Flap Ear Wrap Hood
More of a fashion accessory as comes in animal shapes such as rabbit ears, lion's mane, and antlers.
Made of hypoallergenic acrylic fabric and handmade.
Size is an issue as large dogs may not find their true size.
The Original Happy Hoodie
Made of terrycloth and provides a soothing feeling.
Best option considering all varieties available.
However, the sizes are considerably smaller.
FKYzixeh Dog Ear Cover
The best option if you are looking for length in hoods.
Made of quality soft cotton.
Best for anxiety relief.
Frienda Quiet Ears
Oversized with elastic edges.
Most comfortable Quiet Ears for Dogs as has plenty of room for their ears.
Vokiuler Quiet Ears for Dogs No Flap Ear Wraps
The fabric is thin and stretchy hence great at protection during ear injury.
Material is dust resistant and available in many sizes suitable for all dogs.
Quiet Ears for Dogs Dog's Ear Muffs
Most colorful option in the list with several shades available such as Red, Blue, Grey, and Yellow.
Double-layered design.
However, thin fabric might stretch quickly if regularly used.
What are Some Shopping Tips for Quiet ears for Dogs?
Always look out for the below features before buying hoods:
Thickness
The thicker the ear covers are, the more they will help in protecting from injury.
The thickness will also trap heat hence providing relief from cold.
Fabric Used
The most common materials used to make Quiet Ears for Dogs consist of polyester and elastic.
While these fabrics are comfortable in warm temperatures, those who reside in colder areas will need hoods made of thicker fabric or some padding.
Length
Longer hoods that cover the neck of dogs are best suited for cold weather.
Dogs enjoying sunny climates will need shorter hoods.
Design
You can choose the design of hoods according to your dog's comfort level.
Your dog may prefer something which is snuggly or they may want their ears to be a little less covered.
Also Read : How Heavy Should My Cat Be- Complete Guide?
What are Some other Uses of Quiet Ears for Dogs?
If you are someone who does not need these hoodies because your dogs do not bark crazily but still want to own these, we have a few other uses for these hoodies for your dog. You can use Quiet Ears for Dogs while drying them or during festivals when crackers are burnt. They can also be used when loud music is being played or you can simply style your dogs using cute Quiet Ears for Dogs.