You walked down the aisle, treated your guests with immense bonhomie and a delicious gourmet spread and danced through your wedding night. Now that your D-Day has ended on a happy note, it is time to bid adieu to all the cacophony and hullabaloo and spend some time in solace in each other's arms. Your honeymoon is indeed one of the most special times of your life and to make it memorable you just need to go the extra mile to add some quirkiness to it. Here is a list of quirky yet top romantic things to do on your honeymoon. Raise the toast to a blissful beginning of your newly-wed status.
Warning—Try these at your own risk. Yet we vouch for optimal satiation that comes along with each of these choices. Gear up and pack yourselves for the honeymoon trip.
1. Pick a destination worth your honeymoon
Yes, the world is brimming with romantic destinations, most of them hyped and marketed in a great way. From the bewitching beaches of the Maldives and Bali to the scintillating snow slopes of Switzerland, there is no dearth of romantic getaways across the globe. However, pick one that does not over power your cant-keep-hands-off-the –other syndrome. It is all about spending time alone with each other and deciding on some real romantic things to do that will make every moment indelibly imprinted in your minds.
2. Sleep under the stars
Now, when did you last check the stars back home? Now that you have a lot of time between the two of you, go on and find your way to that spot, which is lush and congestion-free. Dare to loosen up your senses and snuggle in each others' arms under the twinkling lights of a million stars. In short, sleep the night under the stars and rejuvenate your connect to nature. Your honeymooning activities could continue all along.
3. Nightclubbing
A fun activity no matter which part of the world you honeymoon at. Watch the wild party crowd and let your hair down to have a ball. Get up close with your spouse and drop your inhibitions. After all, some intimate moments amidst a party crowd in a foreign land is uber cool for any desi couple!
Also Read: Search The Himalayas With This Top 10 Guide To Hampta Pass Trek
4. Find that secret haunted spot
This is the ultimate thing you could risk. Each place will have some legend and local gupshup associated with it. Talk to locals or even browse the internet beforehand to crack down on some local haunt spot. The chill in the breeze and your nervousness coupled with his assuring embrace—that combines to make your honeymoon very interesting indeed!
5. Seducing your senses with a safari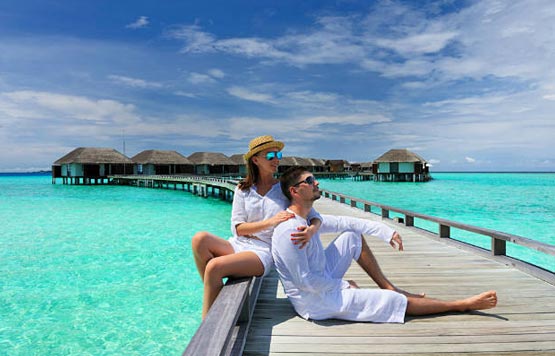 Now, be smart enough and zero in on a place that offers scope for a safari. While it may not sound as appealing as the quintessential honeymoon idea, a safari could add a kick to your honeymoon. More so, it could make you cling to your lover all the more. What's a honeymoon without that thrill?
6. Go for a Couple Spa
After all the hectic wedding celebrations, pampering your mind and body with a delightful, soothing spa is just the thing you would look forward to. Rejuvenate yourselves by indulging in some true hedonistic moments perfectly customized according to your desires at a spa treatment center. Let go off all your worries to the wind as you both enjoy some exotic massage treatment?
Also Read : Why You Should Plan On Making A Trip To Dunsborough This Summer
7. Go naughty local style
Your honeymoon is the best time to experience the real thrill of getting kinky. Pep up your naughty side by going on a steamy lingerie shopping spree from the local store. Be in for surprises, since a Swiss or even a South African store could throw up regional surprises akin to nothing you ever got at homr. For those men out there pondering on some romantic things to do on honeymoon to please their Lady Love let her play the Dominatrix or kindle up her bold avatar by trying out new things in bed. Psst, you could check out the local stores for some exotic kinky stuff, if you can sneak off for a while!
8. Going high on adrenaline
Honeymoon is not only about relaxing and getting intimate. It is also about going the extra mile to make your spouse happy. Go bungee jumping from a mountain, take a romantic ride in a helicopter across the lush white snow-capped peaks or send your adrenaline high by kayaking down a river together. In case your honeymoon spot allows so, go cloud bathing or snorkeling underwater.
9. Turning the destination inside out
One of the top things to do on honeymoon is to make the most of the daytime is sneaking out on a romantic excursion. Explore the hub on foot. And the trick lies in never procuring a guide or even a guide book. You have your GPS handy, after all. Dare to get lost in places you do not know. And that could add zing to your honeymoon.
One of the most romantic things to do on your honeymoon is to spice up every moment with some element of surprise. Even when you are getting intimate with each other try out newer things every day. Play hide and seek, tickle each other and capture snaps which will bring a smile on your face when you glimpse at them several years down the line. Catch him snoring or seize the expression of fright on her face when you go down the roller coaster at the nearby amusement park.
Your honeymoon is the best time to spend quality time together and at the same time imbue it with loads of fun. You cannot afford to be drab and boring on this special vacation. After all, it is the best part about getting hitched, is it not? Well, at least one of the best parts about getting married!